.NET DeveloperDays 2016
|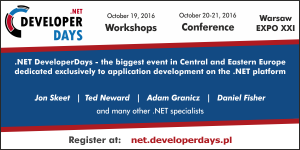 .NET DeveloperDays is the largest conference about .NET platformin Central and Eastern Europe. This year, for the third time, programmers, architects and specialists in managing the process of software development will meet again.
Previous editions of the .NET DeveloperDays proved to be a success. At each conference we can observe prominent experts in the field of programming. This year, among the speakers we will have Jon Skeet and Ted Neward, who jointly will lead the keynote.
For participants apart from the two-day main panel awaits: all-day meetings devoted to one specific issue(pre-confs / workshops). During the workshops, participants have the chance to deepen their knowledge in one of three selected topics. The workshop will be hosted by Ted Neward (Busy .NET Developer's Workshop on the CLR), Daniel Fisher (Resilience and cloud patterns TOGO: build useful stuff in JS and C #) and Adam Granicz (Functional Programming on .NET with F # – Become a Programming Jedi Now! ). Warning! For the workshops reservations will be needed.
The workshops will take place on November 19th, and the two-day conference will officially start one day later: November 20th in the EXPO XXI Hall in Warsaw. The registration form and all information about the event is available on the website http://net.developerdays.pl/ and at the conference's Facebook page.
We can deliver an invitation letter for those who may need it.
During registration use this code 19CF183D8E to get 10% discount.
Discounts apply for tickets for the conference and workshops.
In case of any problems or questions, please contact the office of the organizer via this e-mail:
info@developerdays.pl